Maver and Bag 'em Matchbaits ace Jamie Hughes has won the 2013 Fish 'O' Mania Final with a 68kg net of carp and barbel.
Jamie alternated between fishing casters on the short pole at eight metres, where he found barbel, and fishing the long pole shallow with pellets for carp.
An elated Jamie commented: "I am over the moon to have won – it's still sinking in really. I was definitely on a good peg as it turned out, and everything went right for me on the day.
The barbel weigh really well on Arena Pool, and keeping them coming proved the key to my success."
The Wirrall-based angling coach beat off the opposition in convincing style – finishing over 30kg in front of second-placed Lee Barrett – who weighed in with 38kg.
When asked what he was going to do with the £30,000 jackpot prize, Jamie said: "I haven't got a clue! I want a new fishing van, but other than that, I will probably save most of it."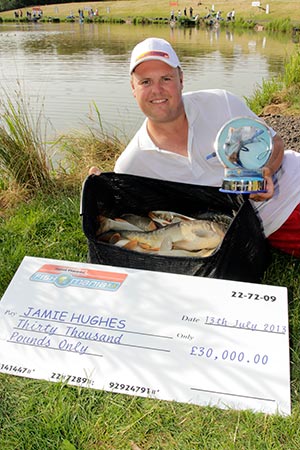 Full result:
1. Jamie Hughes (7) – 68.470kg
2. Lee Barrett (14) – 38.100kg
3. Andy Leathers (8) – 36.430kg
4. James Dent (5) – 32.900kg
5. Neil McKinnon (9) – 29.020kg
6. Dale Shepherd (6) – 27.050kg
7. Les Thompson (11) – 24.550kg
8. Tom Pickering (13) – 23.860kg
9. Nathan Watson (12) – 22.780kg
10. Andy Power (15) – 22.080kg
11. Gary Hick (10) – 20.430kg
12. Darren Cox (2) – 15.130kg
13. Craig Jones (3) – 11.710kg
14. Perry Stone (16) – 5.930kg
15. Nick Speed (1) – 4.850kg
16. Gavin Millis (4) – 2.400kg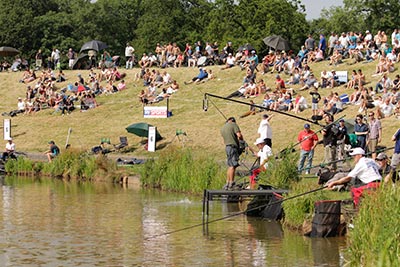 Ladies result:
1. Emma Pickering (4) – 9.375kg
2. Helen Dagnall (1) – 6.475kg
3. Julie Abbott (6) – 4.900kg
4. Sophie Hill (2) – 1.650kg
5. Wendy Locker (5) – 1.075kg
6. Samantha Sim (3) – 0.00kg